Guðmundur Guðmundsson, aka Erró, is an Icelandic Pop artist known for his work in collage. He joins imagery from a variety of popular sources together including advertisements, comics, and posters, earning him comparisons to earlier Pop artists such as Roy Lichtenstein (1923–1997), Andy Warhol (1928–1987), and James Rosenquist (1933–2017).
Erró was born in 1932
He was born in Ólafsvík on July 19, 1932. The town has been able to preserve the story of the boy in Ólafsvík and it has held art exhibitions to honor him. But Erró didn't stay long in Snæfellsnes because, when he was two, his mother, Soffía Kristinsdóttir, brought him to Fossi á Síðu where she became a housekeeper. Kirkjubæjarklaustur is not far from Fossi, where Soffía found her loving husband. They built a house next to Kirkjubæjarklaustur, called Kirkjubær I, where Erró grew up with his mother, stepfather and three siblings.
1. The kids in Klaustur (Owner. KJ/JJ)
2. Munda, Lárus, Soffía, Kristinn, Erró and a friend Jón Sen
3. Erró with his mother and siblings (Owner. GSS)
4. Erró´s brothers and sister in Klaustur and the stepfather Siggeir. (Owner. GSS)
Erró grew up at Kirkjubæjarklaustur
In Klaustur, he used to play by the stream, he climbed on the waterfall, he ran through the fields, he went fishing and horse riding, sometimes he swam at Skaftá or he planted a slender tree in the woods at Klaustri and participated in all daily activities at the Icelandic Farm. Erró would watch Kjarval paint in the school which was outside his house at Kirkjubæ I. No kid at Klaustri was allowed to enter Kjarval's workshop. When Kjarval left, his canvas, brush and paint where passed on to the boy. Moreover, Erró had a working place to paint in one of the warehouses in Klaustri. Erró says that his stepfather  had realized that he needed privacy and space to paint so he left him a small room in the warehouse near Skaftá.
Going to school in the south at the age of 14
Erró was at Klaustur until the age of 14 when he went to Reykjavik to study and he would come home for vacation. Erró was the son of Guðmundur Einarsson, a visual artist from Miðdalur. They had little communication while Erró was at Klaustur, but soon after Erró moved to Reykjavík, his father encouraged him to go abroad to study Art. Erró was baptized Gudmundur, but was often called Gundur when he was a kid at Klaustur. He first took the artist name Ferró but had to change it when it turned out that another artist used that name. Then he took the name Erró, and since 1963 it has been the artist's name, which initiated his career on the shores of Skaftá River.
Erro skiing in Norway. He went there to study art, then he went to Italy. Later he moved to  Paris and has lived there most of his life. (Owner LS)

Erro´s father Guðmundur from Miðdal was known artist. (Owner ATG)

Guðmundur from Miðdal is painting out in the Nature. (Owner ATG)
Still working on his art and shows
Erró married Miriam Bat Yosef, who was also an artist and helped him to get contacts and get opportunity to show his art when he was unknown. They divorced. They had one daughter. Erró's career in Art, which began at Klaustur, has lasted ever since. Nowadays, he is still painting in his studio in Paris and exhibiting his works throughout the world. In Hotel Klaustur in Kirkjubæjarklaustur you can see many paintings that Erró gave the people in Skaftárhreppur. A major retrospective of 50 years' worth of his collages was held at the Centre Pompidou in Paris in 2010.  Erró gave a lot of works to the Reykjavik Art Museum as well as stories and content related to his life and work. The Erró Museum is in Hafnarhús with Tryggvata Street and it always holds an exhibition of his works. The best show is at the Reykjavík Art Museum, where there are pictures of the artist's works and a review of his work.
See some of Erró´s visual world  Listasafn Reykjavíkur and his newest exhibition: Erró: Mao´s World Tour that was opened the 01.05 2019 and will be open one year.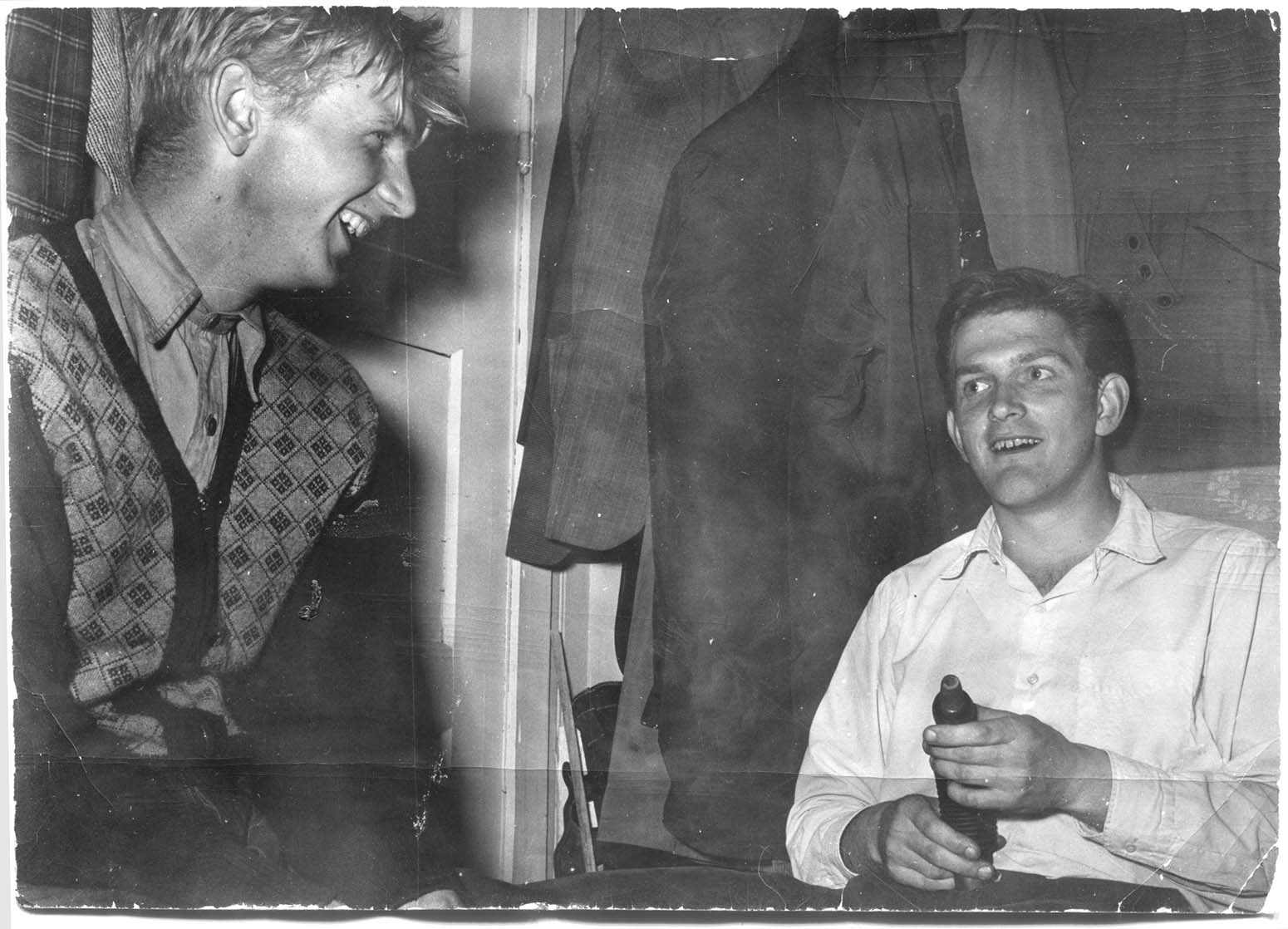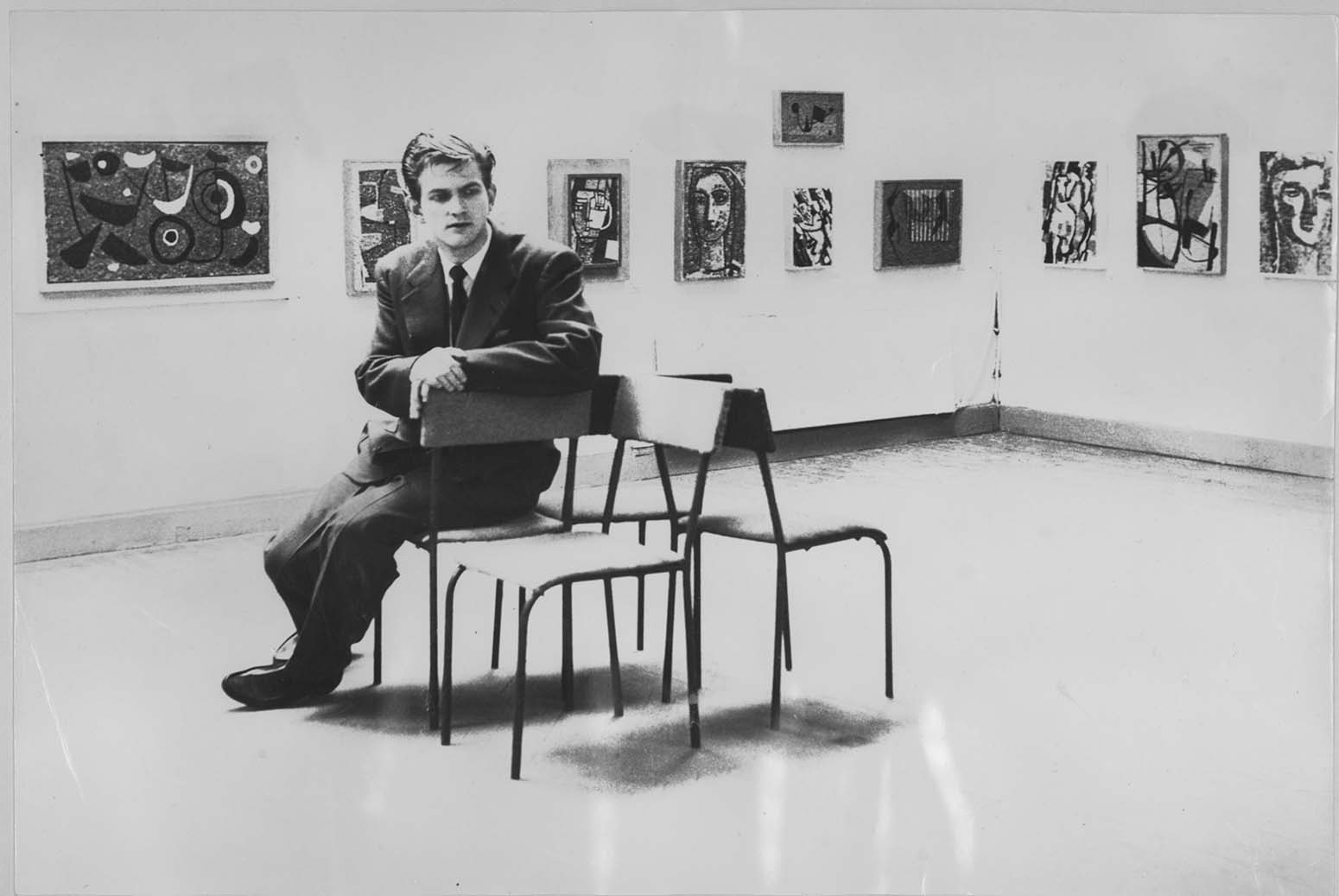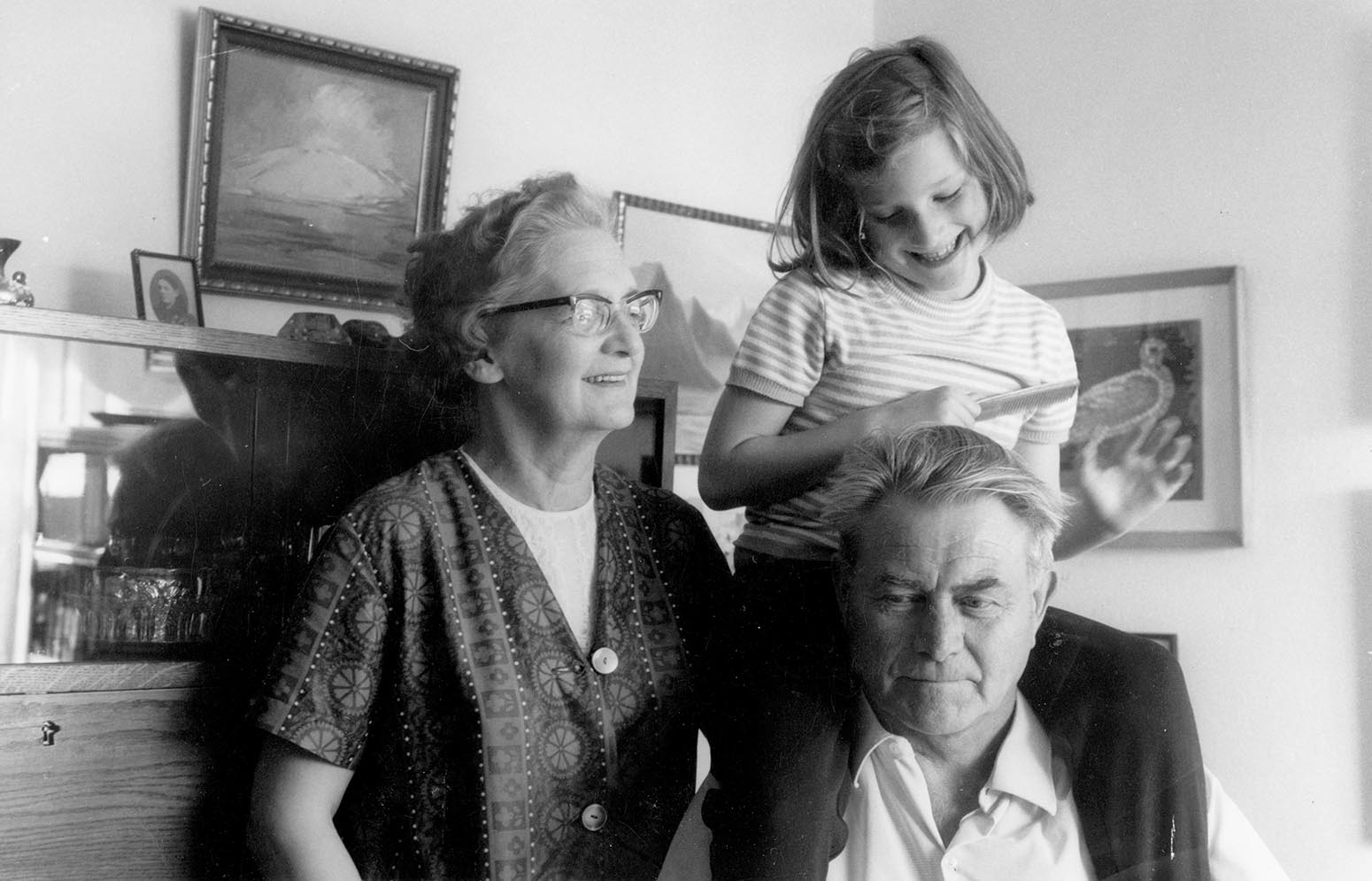 1. The brother´s Lárus, who lives in Kirkjubæjarklaustur, and Erro.(Owner. LS)
2. One of his first exhibitions in Iceland(Owner. BL)
3. Soffía and Siggeir in Kirkjubæjarklaustur and Tura, Erro´s daughter. (Owner GSS)
Guðmunda S. Kristinsdóttir Art Fund
Erró established the fund in memory of his aunt Guðmunda in 1997 with the aim of awarding an annual grant to recognize and empower the creation of art by women through the support of female artists who have demonstrated excellence in their field.
The recipients of the grant are: Ásdís Sif Gunnarsdóttir, Ósk Vilhjálmsdóttir, Ólöf Nordal, Finna Birna Steinsson, Katrín Sigurðardóttir, Gabríela Friðriksdóttir, Sara Björnsdóttir, Þóra Þórisdóttir, Guðrún Vera Hjartardóttir, Hekla Dögg Jónsdóttir, Hulda Stefánsdóttir, Margrét H. Blöndal, Sara Riel, Þórdís Aðalsteinsdóttir, Guðný Rós Ingimarsdóttir, Sirra Sigrún Sigurðardóttir, Hildigunnur Birgisdóttir and Elín Hansdóttir, Dodda Magný and Hulda Rós Guðnadóttir.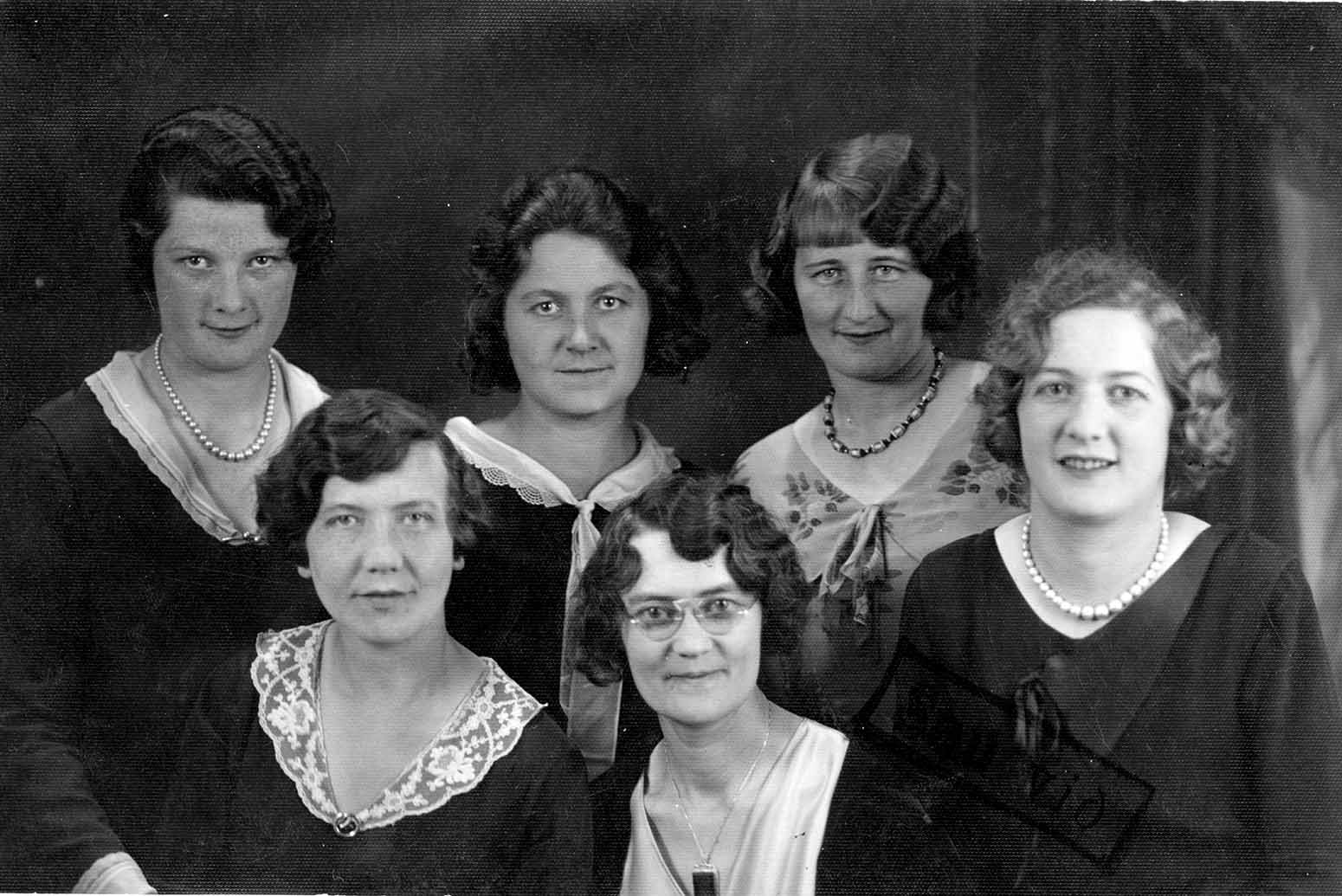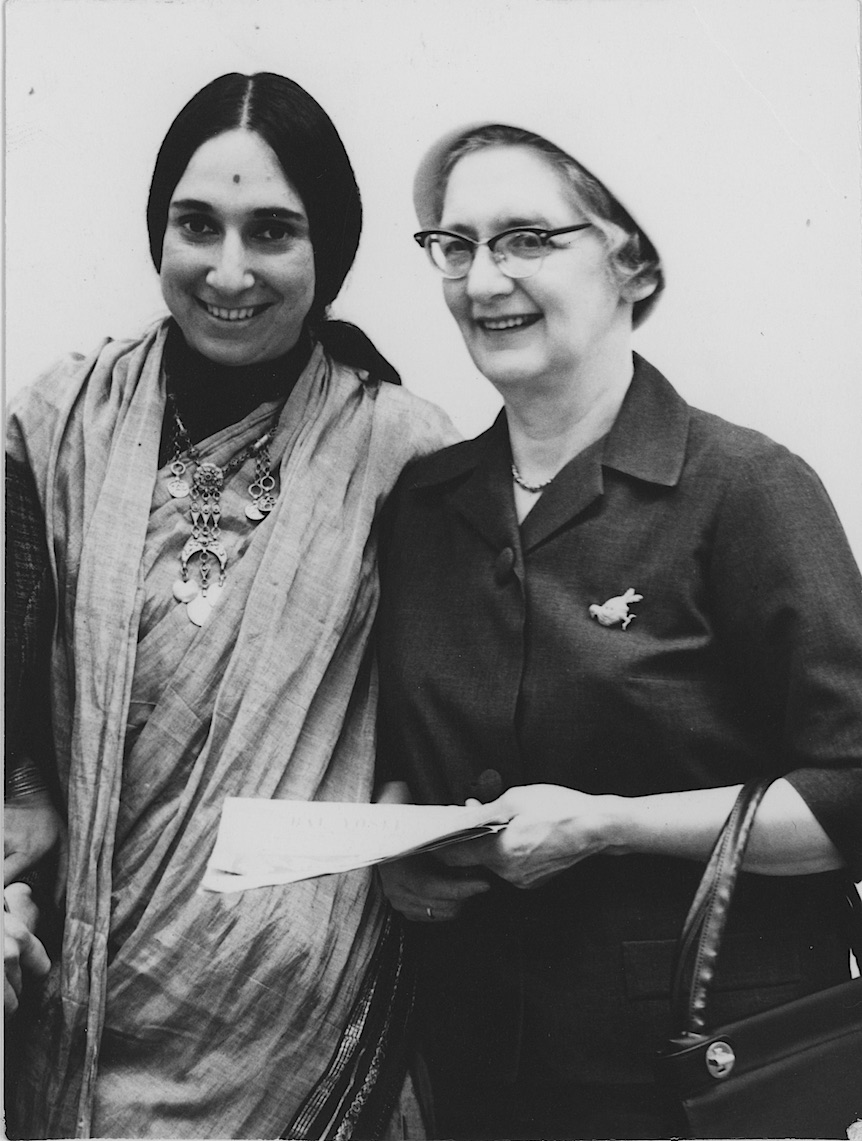 1. Soffía, Erró´s mother down to the right and her sister Guðmunda is up to the left. Erró stayed with Guðmunda when he moved to Reykjavik, very young.  (Owner. GSS)
2. Miriam Bat Yosef, Erró´s ex wife, and his mother, Soffia Kristinsdóttir (Owner GSS)
3. Erró og Vilai, and some of his family and friends in Iceland. (Owner. GSS)
4. Erró with a bicycle in front of his first studio. (Owner LS)
5. Erró fishing with friends near Klaustur. (Owner Listasafn Rv.)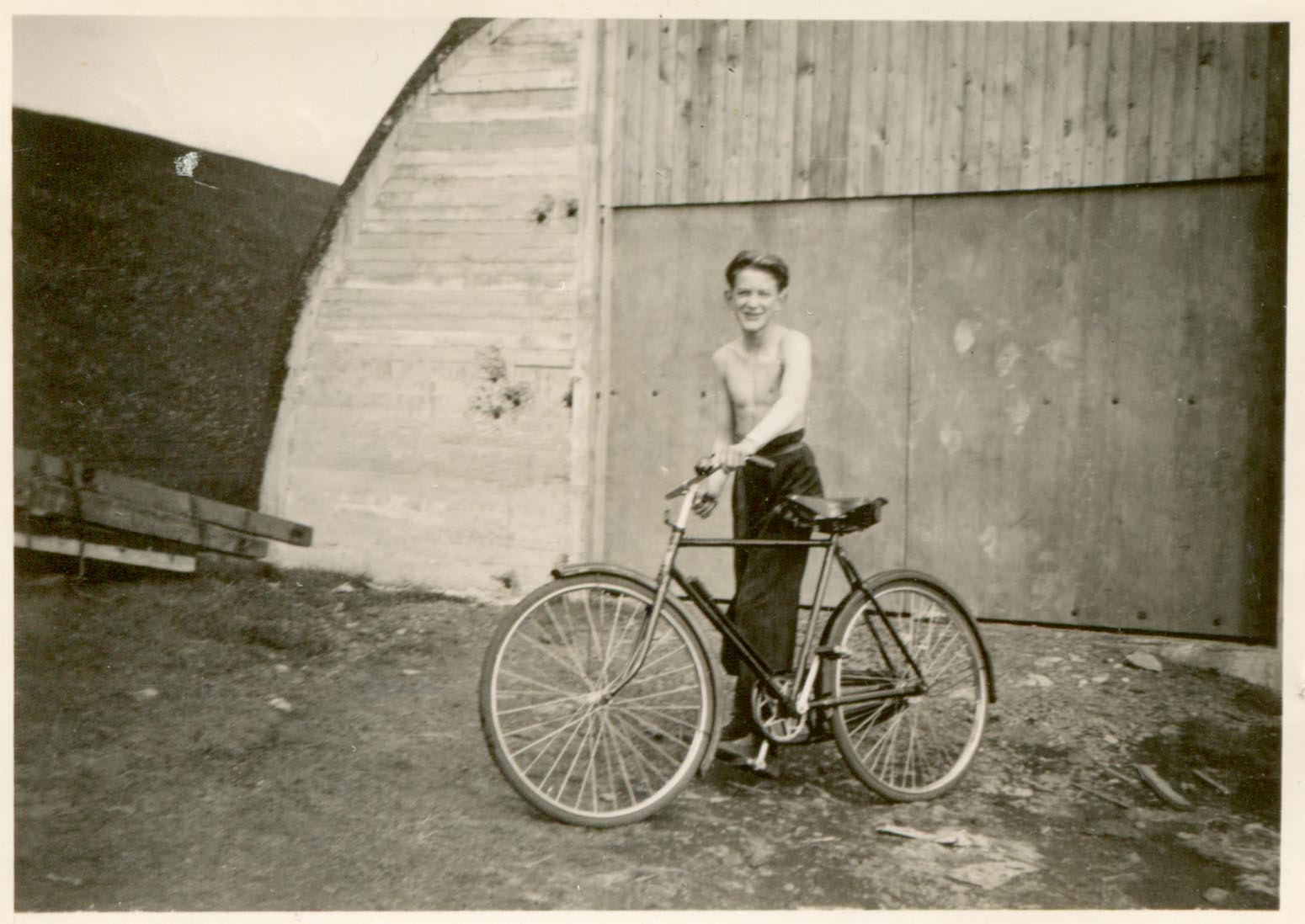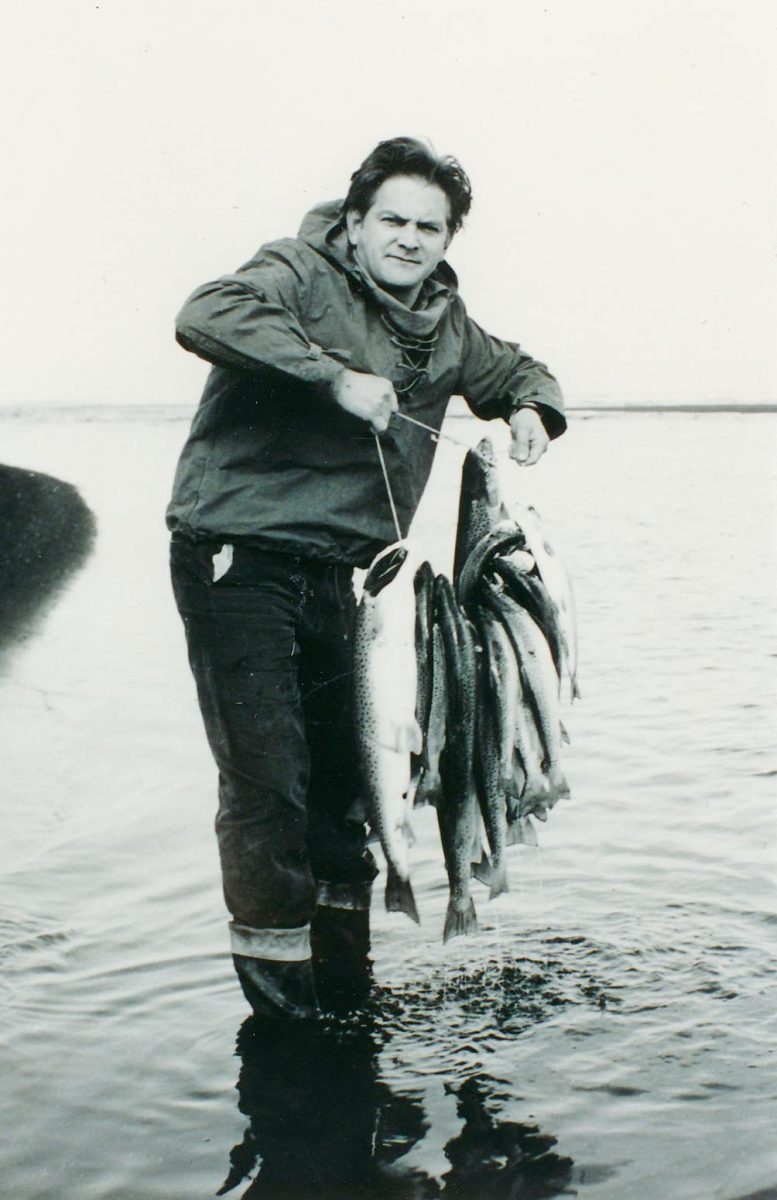 List of sources:
Aðalsteinn Ingólfsson. 1991. ERRÓ. Multiple Life. Speech and Culture, Rv.
Danielle Kvaran. 2007. Erró in chronological order – his life and art. Mál og menning and Reykjavík Art Museum, Reykjavík.
Translated by Argyro Papagianni and María Sveinsdóttir